Hi readers! Happy Labor Day! I hope everyone's having a wonderful day off.
I've gotta say, I'm really getting into the fall fashions right now. I'm going to attempt to brighten and freshen up my clothing offerings, for sure!
I am definitely one who loves layering things. And I love warm, knit scarves and sweaters more than probably anything else! There's just something about bundling up that makes me feel so warm (no pun intended!) and cozy. I'm pretty sure I'll have to move somewhere with a winter after I graduat from college; otherwise I'd never get to wear this stuff!
So, without further ado, here is what is currently on my wishlist right now: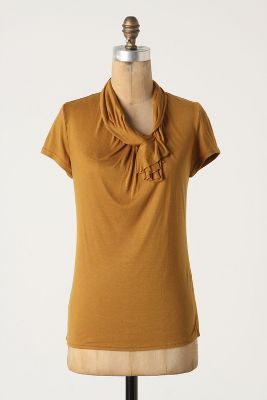 Twisted Ascot Tee, Anthropologie
The lovely sort of ochre color in this top is something that's sadly missing in my wardrobe. I can picture this matching with so many things, and it would be great to layer under cardigans! I hope to snap it up some time soon.
These shorts are the perfect pair to layer over some tights for those fall days when the temperature has dropped just enough to make bare legs a no-go. The corduroy fabric and great color options (twists on your normal neutrals!) fit the bill for me as well.
This is a tank I tried on in store when I was home back at the end of July. I loved the fit and the color options, but didn't bit the bullet and buy it. I've been rethinking it ever since, and am especially happy to see my side in this lovely colorway still available online.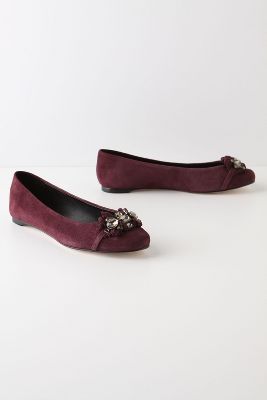 Brooch-Topped Skimmers, Anthropologie
I'm in need of some new, good-quality flats to wear around, and this pair is adorable! Although perhaps not the most practical for everyday life's callings, I still wouldn't mind slipping my tootsies into them for the day.
Double-cloth lady day coat with Thinsulate, J. Crew
This coat is most likely going to be at the top of my birthday list (hooray for having a birthday timed so nicely with fall!). I love, love, LOVE the heather majestic purple color offering, a color which seems to be one common to many items in J. Crew's collection. This is probably my favorite purple-y blue color out there, and this coat will be mine. I just need to figure out my size! Sizing at J. Crew always seems to be so strange for me.
And that's it for now! In other news, I have some things coming my way from etsy sellers, so you can be sure I'll post a recap once I've received my purchases!