A further new weekly feature for the viewing pleasure of myself, as well as my readers of course!
This feature will be posted every Monday, and will include a list of the few things at the top of my wish list currently. Perhaps it will supply some comfort to me and prevent my wallet from being completely empty as I refrain from purchasing these things!
Here goes...
[1]
1. A colorful pair of pants, like
these
here! Isn't that rose color a fantastic take as opposed to a neutral? I can picture it going with so many things! Plus Pilcro is probably my current favorite maker of pants. So comfortable, great quality, and for a decent price when it comes to upper-end clothing products!
[2]
[3]
2. A worldly pillow. Clearly my travel bug has translated to how I want to decorate my home. Now I just can't decide, which one do I prefer? Aw heck, I want both!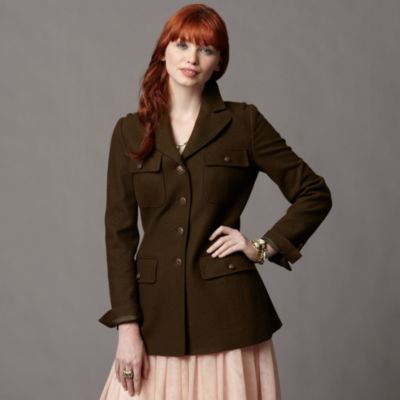 [4]
3. This jacket. I can see it carrying me perfectly through the fall weather here in Vermont. (Very) early birthday present, perhaps?
[5]
4. And lastly, for my sweet tooth, these delicious-sounding cookies. I love Earl Grey tea, and so I'm so very tempted to fill my desire for an order of these scrumdidlyumptous treats.
So there, some lovely eye-candy to start the week off right! Talk to you soon, readers!
--Laura
1/ http://www.anthropologie.com/anthro/catalog/productdetail.jsp?color=066&navAction=jump&id=22527774
2/ http://www.etsy.com/listing/77206127/planisphere-pillow
3/ http://www.etsy.com/listing/79022042/paint-by-number-globe-pillow
4/ http://www.fossil.com/webapp/wcs/stores/servlet/ProductDisplay?langId=-1&storeId=12052&catalogId=10052&productId=22243771&imagePath=WC5206298
5/ http://www.etsy.com/listing/62313238/earl-grey-sandwich-cookies